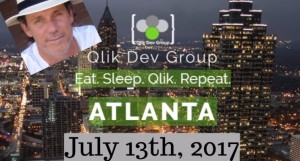 The Qlik Developer's Group is just what it sounds like. It is a forum for QlikView and Qlik Sense developers of all levels to learn from and engage with senior industry folk and each other.
Qlik are very good at holding customer and partner events, but what about those technologists who have to make the system actually work for our clients or employers!? We are key to the ongoing success of the products yet we have been under-represented by Qlik to date.
Claudia and I are honored to present the man with the hat, Rob Wunderlich,  to speak at our Atlanta Qlik Dev Group meet up on July 13th.
If you are a Qlik enthusiast in Atlanta, this is your grand opportunity to learn from one of the best QlikView experts.
This is what Rob will present:
Automated Testing in QlikView and Qlik Sense
How do you validate that your QlikView application is returning correct results? In this session, we will use freely available tools to automate the validation process of QlikView applications after document modifications, software or database changes.
QlikView to Qlik Sense Conversion
Using the QS Conversion Tool- How do I know what did and didn't convert?- Strategies for migration and conversion
The event is free and we will also provide food so RSVP if you are interested since we have limited capacity!
DI Squared, our premium event sponsor, is an Elite Qlik Partner and specialized in Qlik implementation over SAP technology systems in large organizations. With their specialization and set of best practices, DI Squared is known in the Qlik network since 2008. Having offices in Atlanta, Tampa, Milwaukee, and soon in PA & TX, they are known for having best members & skills in the team. DI Squared members will be available in the event to answer any questions, so come & bring all your questions – related to technology or specific to your organization / business cases.
You can RSVP from the Qlik Dev Group site here.